The Tryst of Marching Ahead: What did I lost, What do I find?
It's 8th of October 2023, Sunday mornings are generally lazy until I realised that there is a lot of pending work I need to do, which seems to be impossible to complete in just one day. Still, I choose to write this blog first ;-). It's around 1:30 am at this side of the world, a rainy morning, and a hungry me as always. Well, the pasta is boiled, as soon as I am done writing, I am gonna make the tasty delight worth with by actually eating it 😋(ps: this gif below is exactly me eating).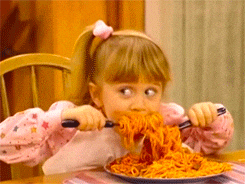 Life is really changing up now, I believe I am changing too! To be honest with you, I have no idea who this person is I see in mirror now. It feels like I am going deep into the matrix, the temptation(💰🧚‍♀️🏎️🛩️🎡🏛️) seems to be true while I know it is just a false reflection, the me is lost somewhere between the fine-lines of dwarf reality.
When I look back, it seems like through this journey so far I have lost a lot and found just a few, its strange how the whole world tell your story of marching ahead with glory while you still find yourself standing still doing nothing but getting lost. Though this is completely personal, it's peculiar how I am sharing it on my blog read by almost five thousand people monthly. Isn't this a paradox again? The paradox of human emotion and expression, ohh, I guess I got the title for the next blog, hahaha look at me trying to be over-smart and thinking for the next blog even before this one actually concluding.
I can deeply feel William Blake, when he said "Art is the tree of life. Science is the tree of death"; though you looses all the sense of emotions, empathy, and understanding of people when you are diving in the sea of desires which are bigger than reality of most of the people. Of-course your determination will be challenged by the thoughts and assumptions of realist time to time, you will miss the faces you have left behind, despite having thousands unread texts you haven't replied and hundreds of people around, you will end up in solitary but remember the bigger good requires the harder effort.
Maybe I am not meant for emotions, I am great with the people I just meet and know nothing about; but, when it comes to people really mean to me, I am not able to express, or show!(📚💃) Though I have decided I am here for something beyond, and yes I am ready to win the world🌏. I know this Tryst of Marching Ahead: What did I lost, What do I find? will be dilemma for life… but I will wake up each day with the determination to paint a new heights of possibility, to develop a meaning bigger than any definition.
Well, its almost 5:00 am here, I guess I should prepare my pasta dancing on a random melody and singing the emotions, there is a lot pending on the to-do for today.
See you in the next blog.